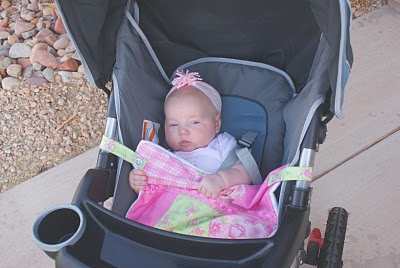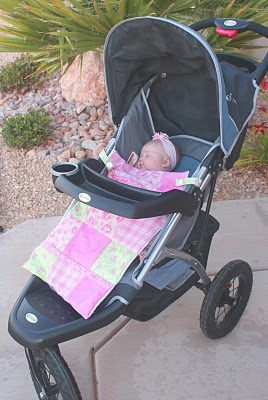 Necessity is the mother of invention. – Plato
And a stroller blanket, I believe, is a necessity.  I came up with this little blanket because I hate picking the blanket up off the ground and putting it back on the baby (yuck!). Maddy seems to be a little kicker and is good at kicking her blanket off every ten steps.  However I can't let her go blanketless or else her legs would fry in the Southern Utah sun.  I made this while the girls were down for a nap.   Yay for an easy and useful project!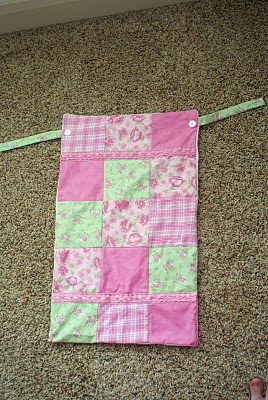 Here is the dimensions of the stroller blanket.   The finished size is 15 inches by 25 inches long.  The straps are 8 inches by 1 inch (finished).  So if your using solid fabric you would cut it at 15.5 inches by 25.5 inches and use fourth inch seams.  If you want to make the top patchwork style with squares instead of a solid piece of fabric you would need 15 squares 5.5 x 5.5 inches.  Once you get your straps sewn together and turned right side out all you do is sew button holes at the end of the strap and then sew your buttons on the top of the blanket and your all set.  I hope that makes sense.  It's just a simple blanket with straps sewn at the top.  But if anyone needs more info I would be happy to go into more detail.