I love my little Valentine's Day plates I just made.  Do you ever make something and then you keep looking at it because your so proud of it? Yep, that's me. They spice up my dining room and I love them!  I just bought this plate rack (is that what it's called?) at Krumpets last Saturday.  I was so proud of myself.   I had the idea to buy a plate rack, put it above the sliding doors in the kitchen (hopefully I'll get some nice french doors to replace them eventually) and put seasonal and regular type plates on it.  So I had this idea, I went out bought the supplies, did it and it turned out just how I had envisioned.  That hardly never happens. 
I picked up these clear plates at Target on clearance.  I'm tempted to go back and buy a bunch more now that this project turned out soo good.
So here they are all spray panted a nice cherry red.  I used my favorite brand of spray paint – Krylon.  It's soo nice and vibrant.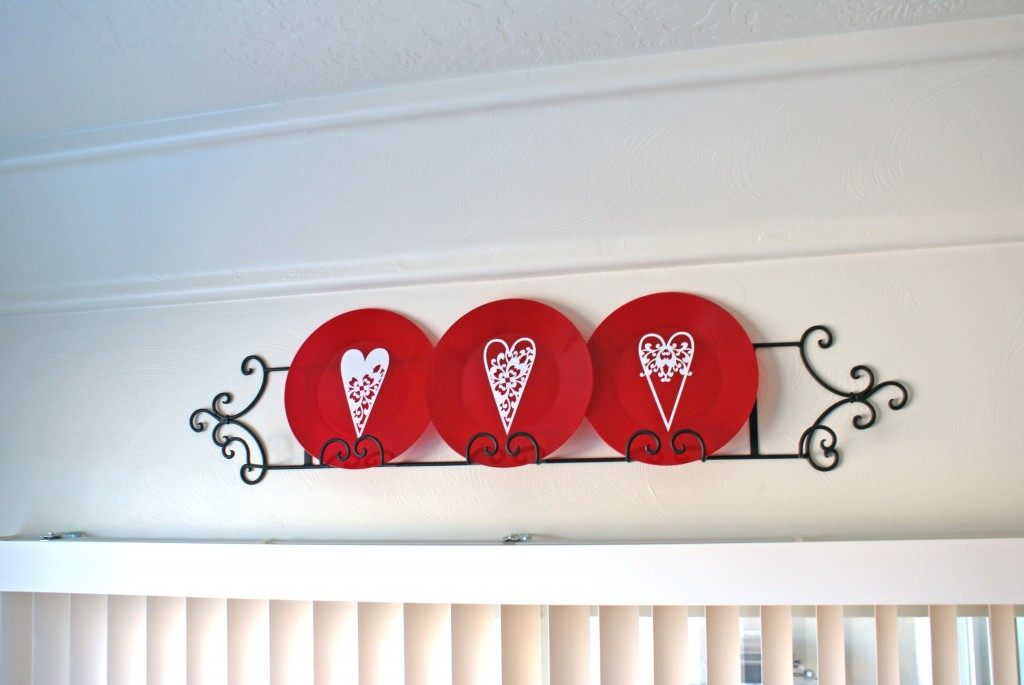 I used my Silhouette to cut out the hearts onto white vinyl.  I love that Roberts now sells vinyl by the foot.  It makes it so much easier and affordable to do little projects.  So here is my finished plate rack.  I hope you love it to!