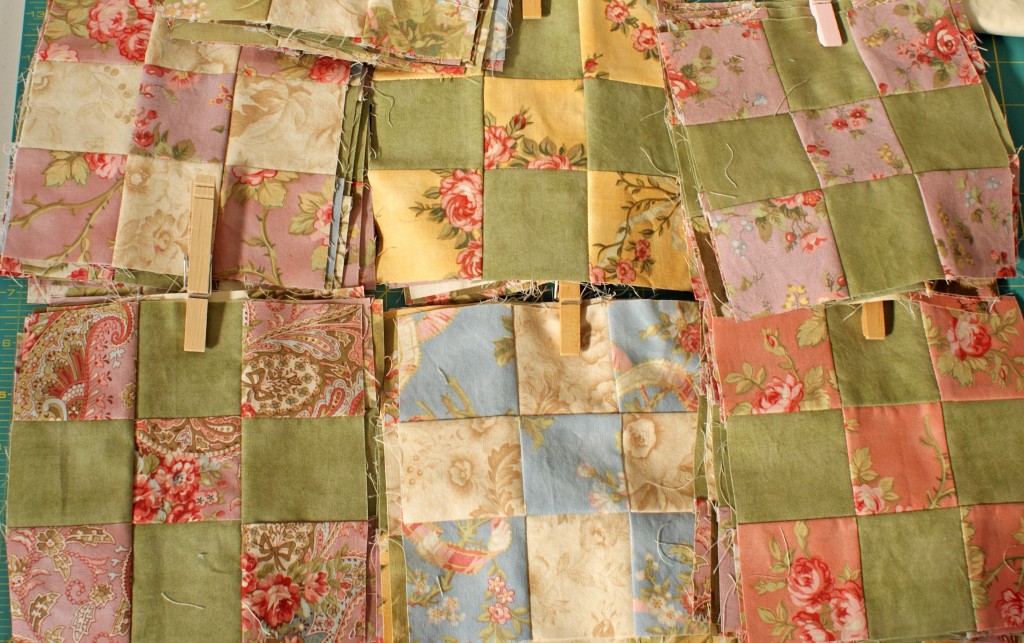 I have started working again on nine patch quilt blocks.  There was a quilt along a long time ago on Crazy Mom Quilts that I started and never finished.  I had enough scraps left over from a quilt to make a whole 'nother quilt so I cut out the pieces and then got burned out.  That was before I got Berny.  I have to say that strip piecing is soo much easier on my new machine and I am really enjoying putting these blocks together.  I hope I'll stick with it and get it done this time.  I love the fabric colors and I love the way the quilt will look when I'm done with it, I've just got to perservere and get it done.
I've also been spending nap time writing in my new scripture journal.  It fills me up in a spiritual way and I'm in a better, more rested mood when the baby wakes up and Macey comes home from school.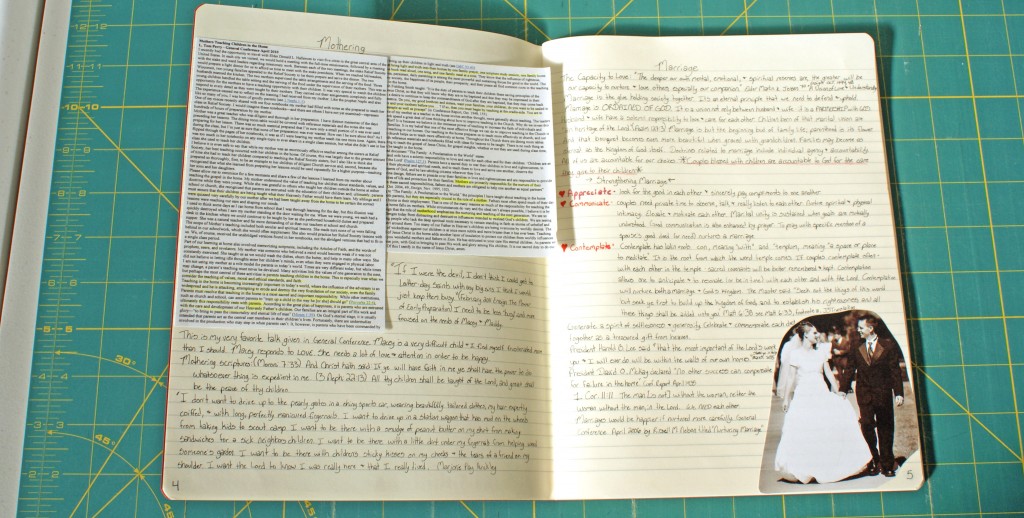 My first two pages are on Marriage and Mothering.  The two most important things to me right now.  I pasted my favorite conference talk on the Mothering page and added some of my favorite quotes on mothering.  There's an article in this months Ensign that I like, but there was one line in it that really stuck out to me and that is "If I were the devil, I don't think I could get to Latter-day Saints with any big sins.  I think I would just keep them busy."  That is soo true it hurts.  I'm so busy all the time.  Keeping the house clean, making dinner, etc.  The big sins don't tempt me at all, but I am so busy doing little things that I'm not making time for the things that matter the most.  My kids, meaningful scripture reading (I don't think the hurry and read a chapter before I fall asleep is to meaningful) and on and on. 
The other page of my journal is about marriage.  I love the parable of the silverware.  It basically says that "If you want something to last forever, you treat it differently."  Just like silverware needs to be polished and taken care of so does a marriage.  I based most of my notes off of a talk given by Russell M. Nelson in General Conference 2006 titled "Nurturing Marriage."  It's a great talk, and if your married I highly recommend you read it.  In it he lists three important things you need to do to strengthen your marriage.  
The redheadedhostess.com has weekly posts that have scripture journal glue-in quotes.  So if your like me and just starting this fun new hobby be sure to get her handouts.  It makes me feel like I'm in seminary all over again.  I love sitting down and researching topics that are important to me and I feel that it's a better use of my time then blog-hopping or watching tv.  Blog to ya soon!