For our activity yesterday we made turkey cookies like the ones off of Our Best Bites.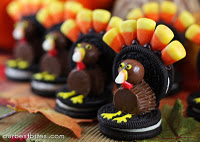 "H's" turkey's totally turned out cute.  The other girls had a hard time not eating their candy.
I can't remember who's plate this was, but they turned out cute too.
Whenever there is candy involved the girls have a great time.  For our next activity I think we will do gingerbread houses – that'll be fun.   It's funny how by the end of the activities they are bouncing off the walls – and then we send them home on a fabulous sugar high.
Activity Days is an LDS activity for eight to eleven year old girls.
To learn more about my religion click here.