Yes, sour cream cherry chocolate chip is what I call the cake because, well, that's what the ingredients are.   This cake is super easy to make because it's not totally from scratch.  I love a good Texas sheet cake but when I want something with a different flavor I bake this one.  You want to know what makes it soo easy?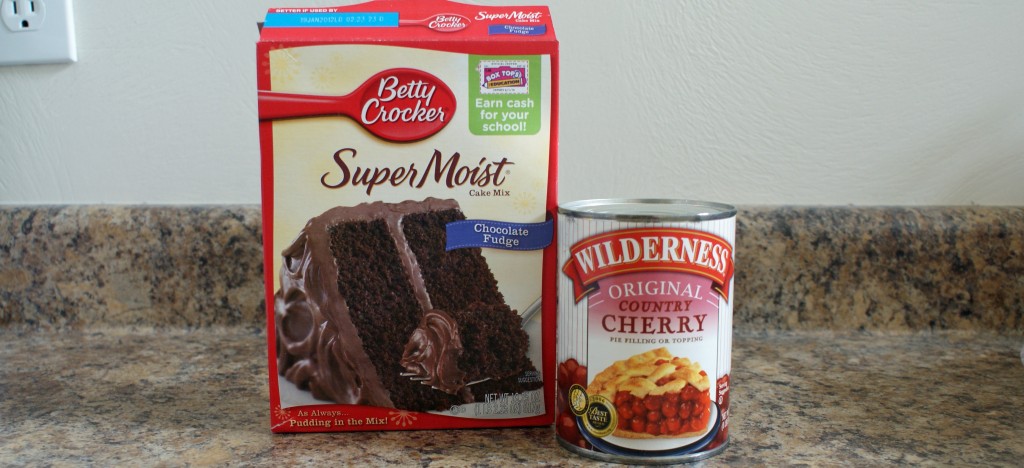 Mmmhmm.  I've got nothing against doctoring up a cake mix.  And then to top it off I slather on some tangy sour cream frosting and that there is a family birthday cake pleaser.  I made this for my Mom's birthday party yesterday.  I love my mom soo much and I hope she had a good one.  Here's the recipe for the cake.
Cherry Chocolate Cake:
1 package chocolate cake mix
1 (21 ounce) can cherry pie filling
1 tsp. almond extract (I think this is a little strong and do a half tsp.)
2 eggs
Heat oven to 350.  Spray two round cake pans.  In a large bowl combine cake mix, cherry pie filling, almond extract, and two eggs and stir until well blended.  Pour batter into prepared pans.  Bake for 25 to 30 minutes.
Sour Cream Chocolate Chip Frosting:
 1 cup chocolate chips
4 Tblsp. butter
1/2 cup sour cream
1 tsp. vanilla extract
1/4 tsp. salt
2 3/4 cup powdered sugar
Melt the chocolate and butter together.  Let it cool and mix in the sour cream, vanilla, and salt.  Gradually add in the powdere sugar until you get a good frosting consistency.  Beat well.
That's all there is too it!  Easy and delicious! I hope you all have a wonderful Valentine's day!!
Linking to: Sweet as Sugar Cookies