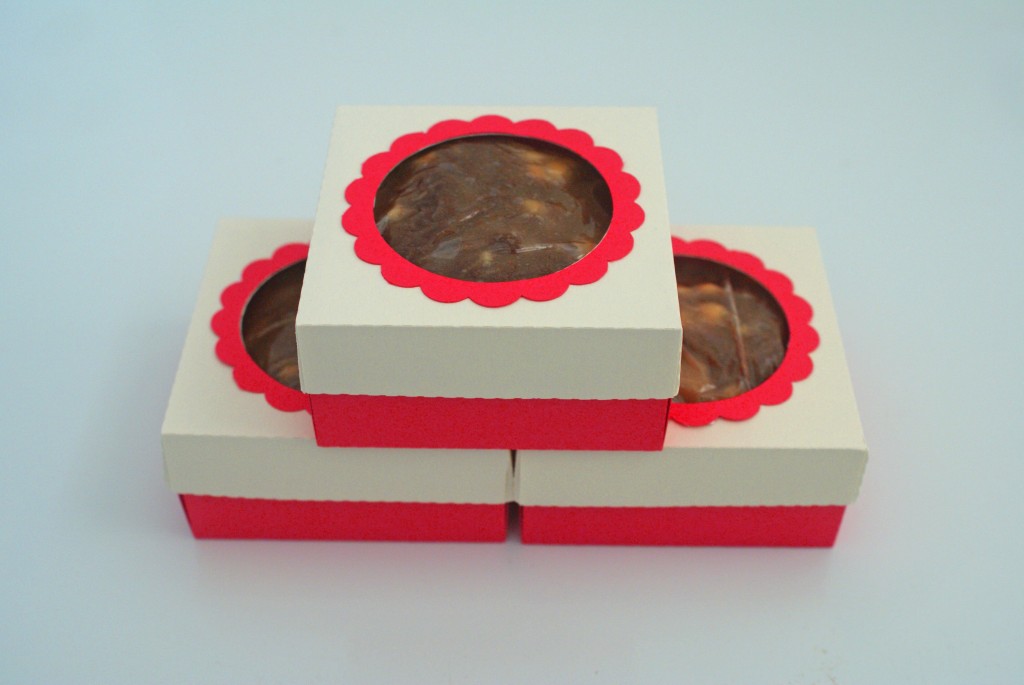 I am having soo much fun with all the things my Silhouette machine can do! I made this cute little boxes to take around to the people that I visit teach.  I didn't want to go buy junk food to put in them because then I would have leftovers and I have been doing soo good at eating healthy food lately.  So I made low-fat Peanut Butter Brownies.  I hope they liked them.  At first you can kinda tell that they have whole wheat flour in them but after that they taste pretty good (well, they do to me anyways.)  Here's the recipe if you want to give it a whirl.
Low-Fat Chocolate Peanut Butter Brownies
 1/3 cup water
2/3 cup + 2 T. bean puree (white northern beans are good)
1 1/2 T. white distilled vinegar
1/3 cup peanut butter (I used the natural, non-hydrogenated stuff)
2 cups whole wheat flour
1 1/3 cup sugar
1/4 cup unsweetend cocoa powder
1/2 T. salt
1 t. baking soda
Pre-heat oven to 350. In  medium bowl, combine water, bean puree, vinegar and peanut butter and mix well.  In a separate bowl, mix flour, sugar, cocoa powder, salt and baking soda.  Mix the dry ingredients well with wet ingredients.  Pour in well greased 9×13 pan and bake for 20-25 minutes, or until toothpick comes out clean.  Top with icing directly out of the oven.
Icing
1/2 cup powedered sugar
2 T. peanut butter
2 T. milk (I used rice milk and it turned out really runny. Just a FYI)
Mix together and pour on top of brownies.