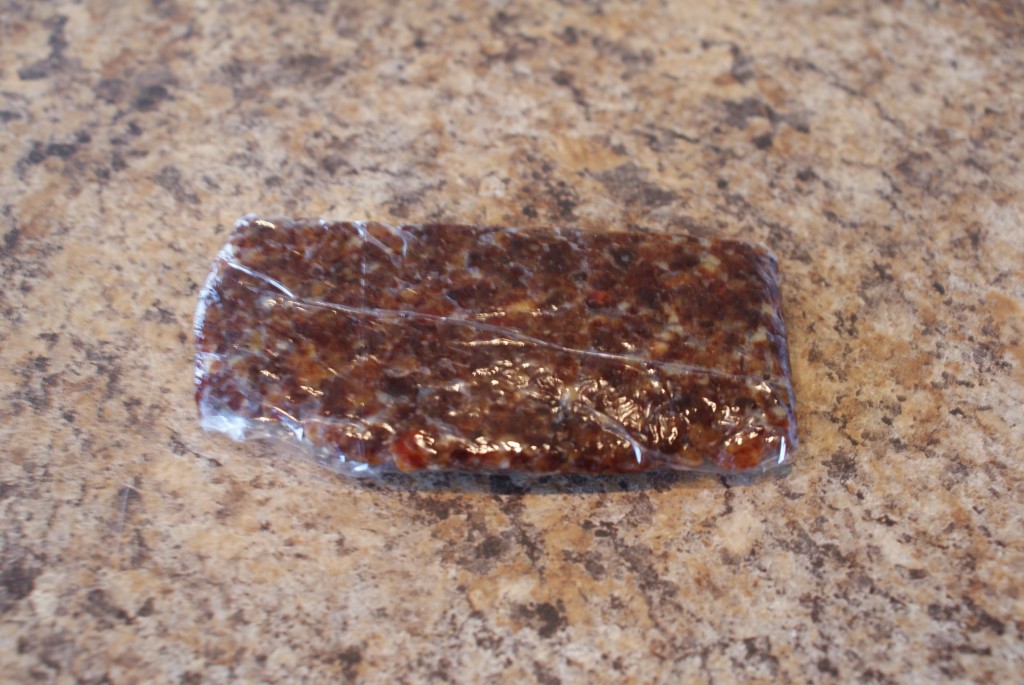 I had my first LARABAR last week and I loved it! It was chewy, yummy, healthy and …… expensive.  I'm sorry but two dollars for a tiny little bar of fruit and nuts is way too much for my budget.  Although,  it did keep me full for a long time.  Depending on which kind you get there are only 3-5 ingredients.  I figured I could make them at home.  How hard could it be?  Well, it turns out its pretty darn easy.  I googled it and there were some really helpful sites and some good Youtube videos on how to do it.  The ones I made last night are equal parts walnuts, dates, and dehydrated cherries.  I did about a half cup of each ingredient in the food processor for 30 seconds and then mushed it into balls, flatened it out into bars and wrapped it in saran wrap.  So easy, so healthy, so cheap. Here are some other LARABAR recipes:
Very Cherry: 1/4 cup dates, 1/4 cp dried cherries, 1/3 cup pecans, almonds or walnuts, 1/8 t. cinnamon.
Cashew Cookie dough: 1/3 cup dates, 1/2 cup raw cashews.
Chocolate Chip Cookie Dough: 1/3 up dates, 1/2 cup cashews, 1/2 t. vanilla, cinnamon, 1/2 oz. finely chopped semisweet chocolate.
Blueberry Bliss: 1/4 cup dried blueberries, 1/4 cup dates, 1/3 cup almonds, 1/2 t. lemon zest, 1 drop almond extract.
Mmm, those all sound soo good.  Hopefully I'll get to make a new recipe every week – as long as Justin doesn't get tired of them.  Give it a try and let me know what you think.