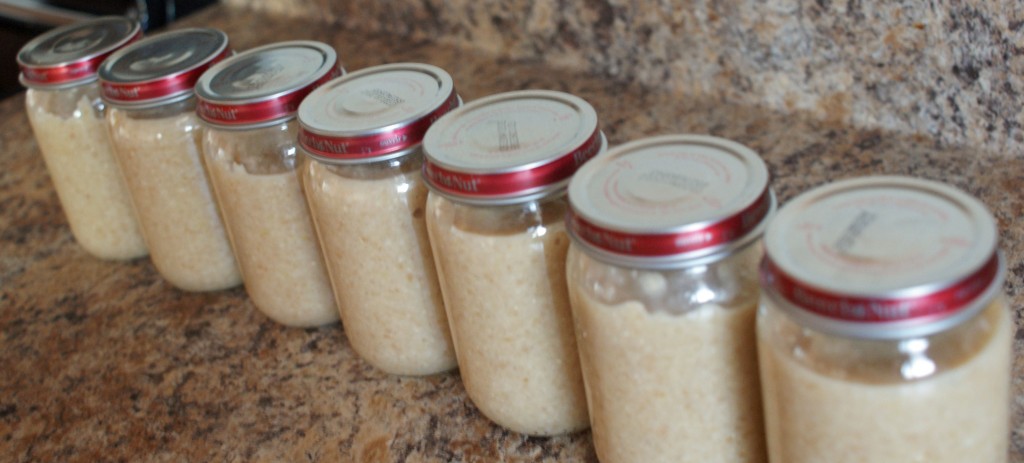 I love the BeechNut baby food because its organic and has grains and fruits mixed together, but sixty seven cents for six ounces of food.  Really?  Pre-prepared (is that a word) is really a convenience item because it is handy to have for traveling and things but really it's not all that hard to make at home.  I came across this easy recipe for apple and oatmeal cereal and Maddy loves that stuff.  She will eat anything, but this stuff she inhales.  So let me share the recipe with you.  Your baby might like it too. (I timesed this recipe by four.  Timesed is a word – I swear.)
1 apple
1/4 cup oats (grind up the fourth cup of oats in the food processor or blender)
3/4 cup water
1.  Peel, core and dice the apple.
2. Place apple chunks in a pan with the oats and water.
3.  Bring the mixture to a slow boil.  Simmer covered until apples are soft and the oats are cooked.
4.  Put the mixture in a food processor to break down the apples even more. 
If you don't serve this while it's warm you can reheat a single portion in the microwave for thirty seconds at fifty percent power.  It's soo easy, cheap and healthy!